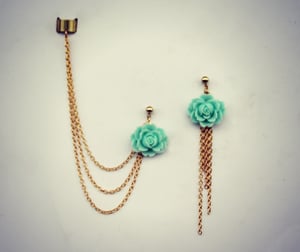 $

24.00
NOTE: if you have your cartilage pierced the cuff can be replaced by a stud. Just select cuff or stud when checking out.
This is a set of ONE ear cuff and earring and ONE normal earring. These are very orginal and you will never find another pair like them. On one side you have a brass adjustable ear cuff with 3 gold plated chains connecting down to an aqua blue rose. the earring is an identical flower with 3 gold plated chains dangling from it but not connected to a cuff. The ear post is gold plated and nickel free.
Sending this as a gift? I will include a free gift tag with a personalized message from you to the special person you are sending it to. Just send me a message after your purchase and let me know what you want to say.